Green Office Wageningen is run by a team of six green-minded coordinators and an enthusiastic group of volunteers.
Coordinators
Thomas Olijhoek
Green Office Manager
Before starting as the Green Office Manager I did a BSc in Biology and MSc in Environmental Biology focusing on Paleoecology and Natural Resource Management. After my studies I've been a researcher at Exeter University and a small archeological consultancy on changing ecosystems through time, before starting at WUR at Facilities and Services. I love working with this fantastic group in making the university a more sustainable environment, while also getting students, researchers and other employees to make more sustainable choices in their day-to-day life. Getting this done is what motivates me daily!
Kateryna Urbanovych
Communication & Outreach Coordinator
I am a current second-year MSc student in Aquaculture and Marine Resource Management and I am specializing in Marine Governance! I did my Bachelor's in Natural Sciences. In general, I am passionate about all things sustainable and natural! I really like how the role of the Communication & Outreach coordinator makes me always connected to the other coordinators and be involved in the promotion of the Green Office projects! This role also makes me appreciate social media since they are perfect for spreading information regarding important projects and events, as well as raising awareness about sustainability at WUR and in Wageningen in general! Through this role, I really understood the power that communication has.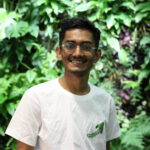 Pratik Gupta
Education & Research Coordinator
I am a student in the MSc Climate Studies program, focusing on Human-Environment interactions. Given how environmental and societal issues are tangled with each other, I see sustainability as an inter-disciplinary challenge requiring alternate ways of thinking. So how education and research around sustainability are perceived and conducted at WUR is extremely important for me! This role is a great opportunity to promote a more inclusive and holistic view of sustainability and fits well with my personal, academic, and professional experiences, and long-term interests. Involving the students and faculty in this 'mindset shift' is crucial, as they can be change-makers and leaders that influence the debate and perception of sustainability in general society. If you have any innovative ideas about it, do not hesitate to approach us!
Sem Zijta
Campus & Operations Coordinator
I am currently a BSc student in Environmental Sciences and before this, I was a student in Philosophy. My different studies helped me develop a more comprehensive vision of sustainability, and have given me the opportunity to get involved in different topics related to sustainability! Through my work for the Green Office, I try to make WUR more sustainable. Working together with students and researchers is an amazing way of achieving this purpose, and at the same time connecting with people. Operations on campus relate to circularity, energy, and biodiversity. If you are interested in any of these topics, want to give input, or get involved, feel free to contact us!
Clara Tassinari Alves
Community Coordinator
I am a student in the Msc International Development! I came to WUR to associate my theoretical background in Social Sciences to more practical approaches. The Green Office was the perfect place to start and it combined my interest in seeing the university getting more sustainable with meeting nice and engaged colleagues. Through the position of Community and Network coordinator, I get to meet many people from Wageningen and further the green network in the city as well as with other green offices. I also get the chance to engage volunteers and be sure they are having a nice experience with us. I love having this close contact and community feeling and especially seeing our ideas grow with others!
Green Office Volunteers
Green Office Wageningen also has an enthusiastic group of volunteers that work together in different project teams. We would like to introduce you to… Niharika Chauhan, Clara Colonna, Emmy Van Daele, Nathan Lee, Django Milner Vaas, Nathalie van der Wel, Natasha Desai, Paula Cristobal Medina, Amy Jonkers, Ashay Shah, Sara Sottoriva, Mae Glaese, Lana Migayrou, Lisa de Graaf, Riemer van der Vliet, Laura Wilson, Stella Brugman, Vignesh Manoharan, Sonia Macacci, Svenja Herrmann, Malou Blonk, Jitske Fijneman, Yu Ling Chang, Aishwarya Muralidharan, Bhawana Shivaloti, Lucas Sawosko, Priyadarshini Pongalur Selvaraj, Zaki Ruhyaman Bakran, and Marta Battistel.