A Guide to Seasonal Fruits & Vegetables
Autumn is upon us. It is crisp outside and the trees that surround us are slowly turning orange and brown. As the weather changes, so does the world around us. But don't worry! We are here to give you a guide on how to survive sustainably in this beautiful season.
When the air is cold and the sun sets early, finding the motivation to cook could be hard sometimes. So instead, we just need some magic; and the real magic is seasonal food, which we can use to create meals so good, it's like a little warm hug.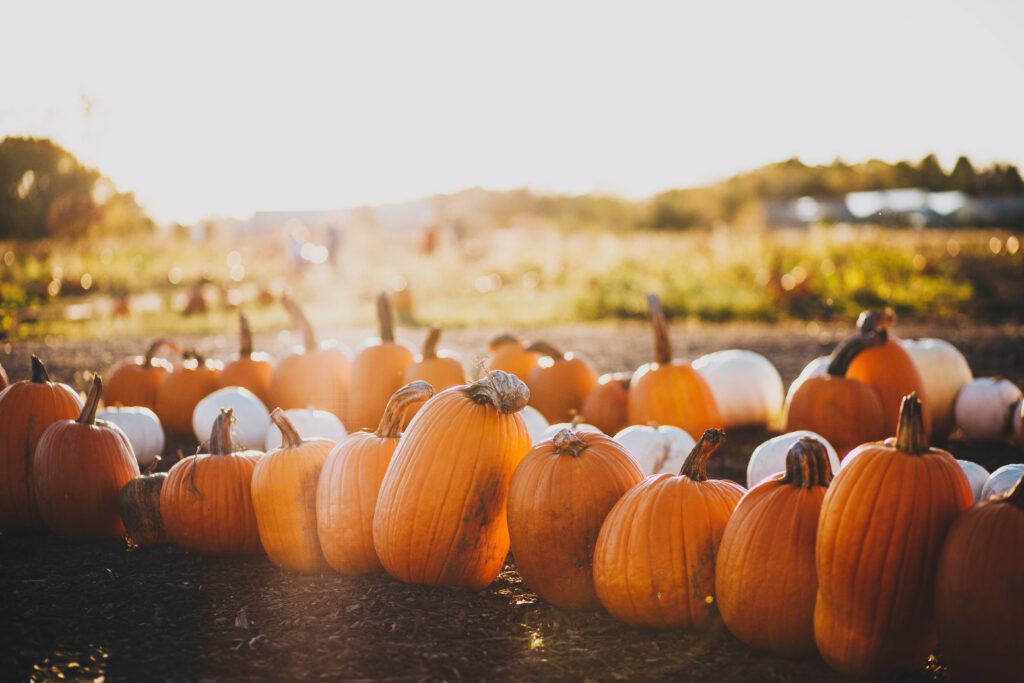 SEASONAL VEGETABLES
The real queen of October is the PUMPKIN, also called Squash: It offers vitamin C, vitamin E, iron, and folate – all of which help to support your immune system.
Mushrooms are rich in vitamin B: riboflavin, niacin, and pantothenic acid.
This combination helps keep your heart healthy. Riboflavin is essential for the production of red blood cells, while niacin is good for the digestive system and for maintaining healthy skin.
Broccoli is a great source of antioxidants and may support your health by reducing inflammation, improving blood sugar control, boosting immunity, and promoting heart health. Broccoli has a lot of fiber, vitamin C, vitamin K, iron, and potassium.
Cabbage seems to raise levels of beta-carotene, lutein, and other heart-protective antioxidants.
Kale has very high levels of Vitamins A, C, and K-one cup of chopped kale provides well more than your recommended daily allowance of these vitamins. It is also a good source of Vitamin B6, calcium, thiamine, folate, iron, and several other nutrients.
Celeriac is a versatile, flavorful ingredient for soups, mashes, side dishes, and salads. It is a plentiful source of vitamins C and K, which can help support heart and bone health. Celeriac may also help prevent type 2 diabetes, although more research is necessary to confirm this.
Onion contains fiber and folic acid, a B vitamin that helps the body make healthy new cells. Onions are healthy whether they're raw or cooked, though raw onions have higher levels of organic sulfur compounds that provide many benefits.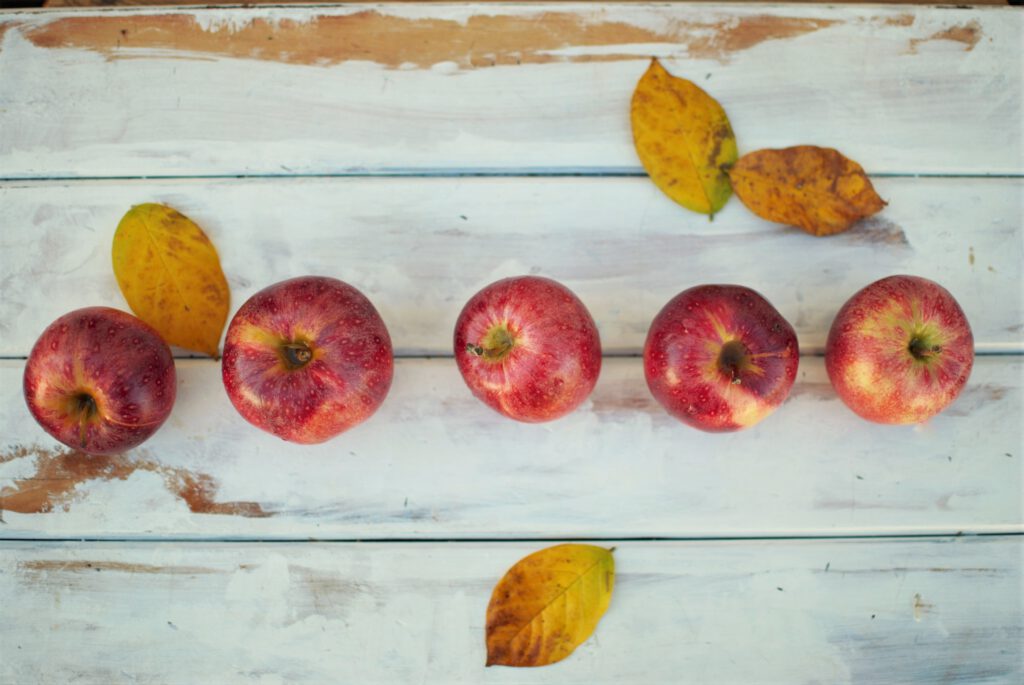 SEASONAL FRUITS
Sweet Potatoes give you 400% of the vitamin A you need each day. This helps keep your eyes healthy as well as your immune system, which is your body's defense against germs.
Persimmon is a good source of vitamins A and C as well as manganese, which plays a crucial role in metabolism. They also have other antioxidants, which help reduce the risk of many serious health conditions, including cancer and stroke.
Grape protects your immune system and may help prevent several chronic diseases, such as cancer, high blood pressure, diabetes, and heart disease.
Chestnuts are a good source of antioxidants, even after cooking. They're rich in gallic acid and ellagic acid—two antioxidants that increase in concentration when cooked. Antioxidants and minerals like magnesium and potassium help reduce your risk of cardiovascular issues, such as heart disease or stroke.
Apple is an incredibly nutritious fruit that offers multiple health benefits. They're rich in fiber and antioxidants. Eating them is linked to a lower risk of many chronic conditions, including diabetes, heart disease, and cancer. Apples may also promote weight loss and improve gut and brain health.
Pears have antioxidants that might show a beneficial effect on liver health.

---

But where can we find these delicious seasonal foods? Let's find out together!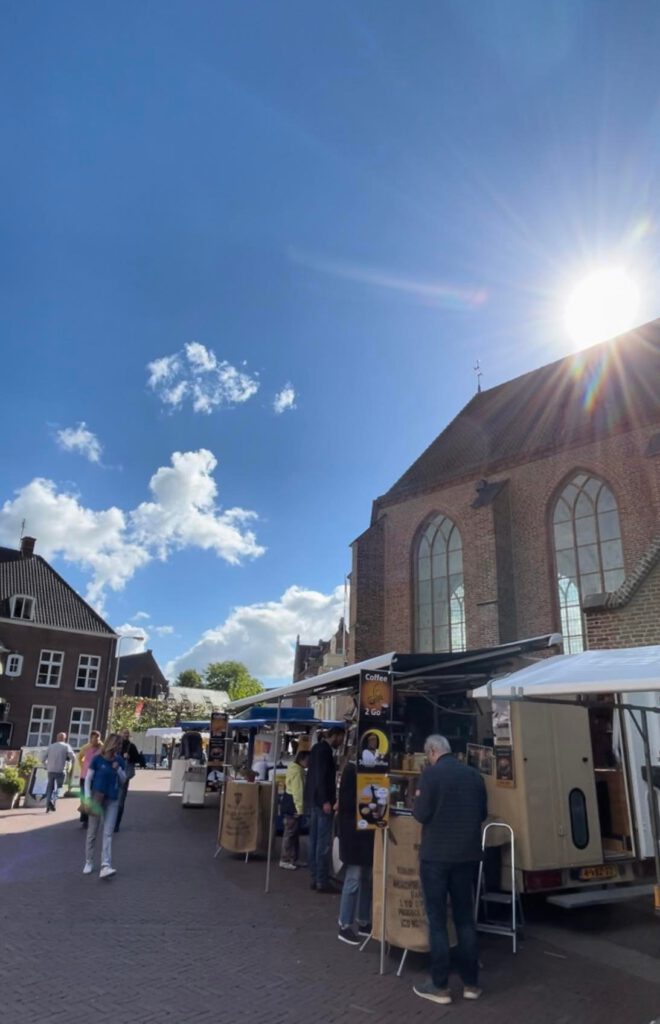 WEDNESDAY AND SATURDAY MARKET:
One of the best places for purchasing products is the market in the city center, where you can buy vegetables and fruits at a really reasonable price. Another advantage of the market is that you can support local producers, which is highly sustainable!
If you need fruits and veggies on days when the market is closed, you can go to:
​-De Gieterij
​-Odin Cooperative and biological Supermarket
SEASONAL RECIPES
Now that we know which foods are seasonal foods and where you can buy them, it is time to discover how to cook them.
🥧 VEGAN APPLE PIE🥧
Ingredients:
Shortcrust pastry
⦁ 2 ½ cups (310g) ⦁ all-purpose plain flour, (note 1 for gluten-free)
⦁ 1 cup (225g) ⦁ vegan block butter, or solid coconut oil (chilled, note 2)
⦁ 3 tablespoons cold water, or as needed
⦁ 2 tablespoons ⦁ granulated sugar, or coconut sugar
⦁ Pinch of any good quality salt, if using coconut oil
Pie Filling
⦁ 4 x (720g) cored apples, sliced thinly (note 3)
⦁ ½ cup (95g) ⦁ granulated sugar, brown sugar or coconut sugar
⦁ 3 tablespoons (20g) ⦁ corn starch / corn flour
⦁ 2-3 tablespoons ⦁ lemon juice and zest, (approximately 1 lemon)
⦁ 2 teaspoons ⦁ ground cinnamon, or to taste
⦁ 1 teaspoon ⦁ ground nutmeg
⦁ Pinch of any good quality salt
To glaze
⦁ 1 tbsp ⦁ maple syrup
⦁ 1 tbsp water
Instructions:
Preparing the pastry:
Mix all the pastry ingredients in a medium size bowl or food processor. If the mixture is too crumbly, add some extra water and mix until it becomes a pliable dough. If the mixture is too wet, add a little more flour and mix again. Divide the pastry into 2 balls, wrap or cover in an airtight container and chill for at least 30 minutes.
Preparing the filling:
Toss all ingredients in a bowl until combined and set aside.
Assembling the vegan apple pie:
Preheat oven to 180 °C (350 °F). Grease a 9-inch (23 cm) pie dish.
Remove the pie dough from the fridge. If the dough is too cold, allow it to come to room temperature for 30 minutes.
On a floured surface, use a rolling pin to roll out one-half of the pastry into a thin circle. It should be about 5 mm (¼ inch) thick. Transfer the pastry to your pie dish and press it against the base and sides to form a crust.
Trim off the excess pastry and prick the bottom with a fork. Set aside.
Layer all the apple pieces (and any excess juices) into the pie crust.
On a floured surface, roll out the remaining half of the pastry into a thin circle. Transfer the pastry to your pie dish for the top crust. If you'd like to create a lattice design, cut your pastry into 1.5 cm (~½ inch) strips and layer them on your pie (refer to the video for a visual guide). Trim off the excess pastry from the pie.
Glazing and baking your apple pie:
Combine the maple syrup and water in a small bowl. Brush the mixture on your unbaked pie.
Bake the pie for 1 hour, or until the surface is golden, and the apples are tender. If your pastry is browning too quickly, but your apples are not tender, reduce the oven to 160 °C (320 °F) and/or cover with aluminium foil.
Slice and serve the apple pie with a few dollops of cream or ice cream. Enjoy!
Notes
To make this apple pie gluten-free, use a 1:1 gluten-free all-purpose flour OR 1 ½ cups (150g) almond flour and 1 cup (160g) gluten-free flour all-purpose flour. If you use almond flour, your pie crust may get brown more quickly, so just cover your pie with aluminium foil if needed.
If you only have access to vegan margarine/spread, use ¾ cup (170g) of chilled margarine, 2 ¾ cups (345g) of flour, and less or no water. Your pastry will be softer and more delicate.
Apples were weighed after they were peeled and cored. You can leave your apples unpeeled if you prefer
​🥞PUMPKIN PANCAKE🥞
Ingredients
⦁ 3/4 cup pumpkin puree
⦁ 1 cup ⦁ soy milk, or other plant milk
⦁ 1/2 cup water
⦁ 2 tablespoons canola oil, melted coconut oil, or apple sauce
⦁ 2 tablespoons ⦁ pure maple syrup
⦁ 1 teaspoon vanilla extract
⦁ 1 1/2 cups all-purpose flour OR whole wheat pastry flour
⦁ 1 tablespoon baking powder
⦁ 1/2 teaspoon salt
⦁ 1 teaspoon ground cinnamon
⦁ 1 teaspoon ground ginger
⦁ 1/4 teaspoon ground nutmeg
Instructions
⦁ In a large bowl, add the pumpkin puree, soy milk, water, oil or applesauce, maple syrup and vanilla. Whisk well to combine.
⦁ Add the flour, baking powder, salt, cinnamon, ginger and nutmeg.
⦁ Mix with a large spoon until combined, but do not over-mix. A few lumps are fine.
⦁ Drop batter onto a heated griddle or pan (1/3 cup) and cook until a few small bubbles form.
⦁ Flip and cook for 1-2 minutes more, until golden brown.
​🍲PUMPKIN SOUP 🍲
Ingredients
⦁ 1 tablespoon olive oil or 1/4 cup water/broth for water saute
⦁ 1 large onion, diced
⦁ 4 – 6 cloves garlic, minced
⦁ 1 – 2 teaspoons fresh thyme, chopped
⦁ generous pinch of red pepper flakes
⦁ 4 – 5 lb. baking pumpkin, skin peeled, seeds removed and cubed
⦁ 1 cup dried red lentils
⦁ 6 cups broth or water (or combo)
⦁ salt & pepper, to taste
⦁ 1/4 cup chopped parsley, to garnish
⦁ pumpkin seed, to garnish
Instructions
⦁ Saute: In a large Dutch oven or pot, heat oil/water over medium heat, add onion and garlic, and saute for 5 minutes. Add the thyme, red pepper flakes, salt, and pepper, then stir and cook 1 minute more until fragrant.
⦁ Add remaining ingredients: Add the pumpkin, red lentils, and liquids, and simmer at a gentle boil for 20 minutes. Soup is ready when the pumpkin is fork-tender and the lentils are soft.
⦁ Puree: Remove soup from heat, and let it cool for a few minutes. Using an immersion blender (or stand blender), puree the soup to the desired consistency. Feel free to leave it a little chunky! Stir in the fresh parsley or use it as a garnish when serving.
⦁ Serve: Spoon into serving bowls and top with pumpkin seeds, red pepper flakes, pepper, and more fresh parsley.
(STORE: Leftovers can be kept in the refrigerator, in a covered container, for 5 – 6 days. To store longer, freeze portions in freezer-safe containers or baggies for up to 2 – 3 months. Let them thaw before heating them)
Written by: Chiara
Edited by Nathalie & Tamara