Bee Friendly Challenge Winners Announcement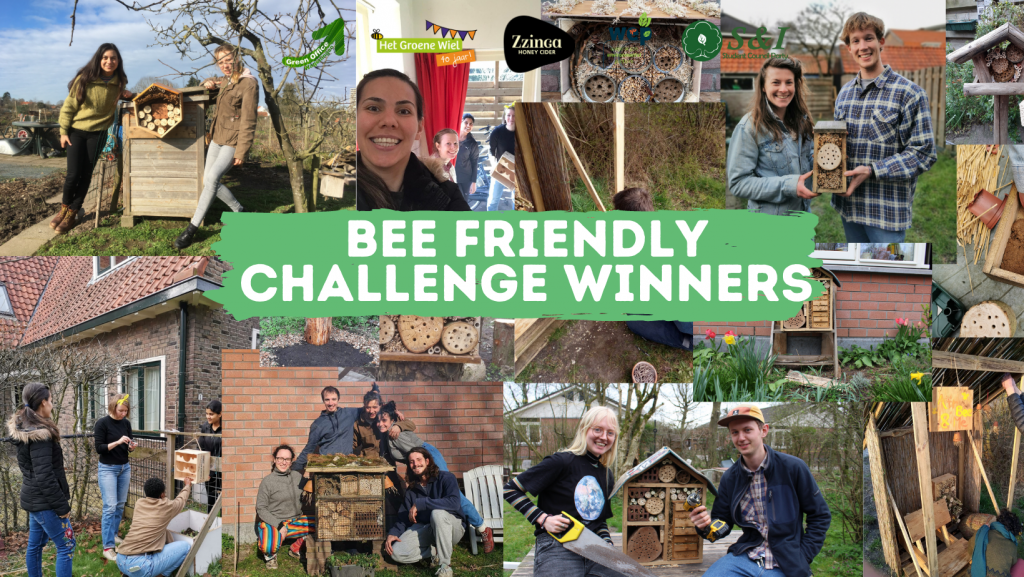 Wild bees play an essential role in nature to pollinate plants, vegetables and fruit. Nowadays, they don't find enough food (flowers) and too few nesting places.
Simultaneously, the Green Office is partnered up with IVN Het Groene Wiel, Zzinga, WEP and S&I to promote biodiversity on and off-campus by creating bed and breakfast (B&B) for bees. To do that, we created the Bee Friendly Challenge, a friendly competition between a group of friends or housemate to create the most creative bee hotel to support biodiversity in the garden.
Thirty-six groups and 27 students registered for the B&B. This challenge is also part to support IVN Het Groene Wiel in making a 1000 B&B's for bees. Making sure the Wageningen area will be blooming with flowers and full of wild bees.
The best three bee-house will receive an award provided by Zzinga, a startup company promoting drinks from organic honey and investing part of their profit for local bee projects. All the bee-house submitted are amazing, and choosing the best three out of many is difficult. Three judges from the Green Office, IVN and Zzinga were going through to each bee-house and giving a score from 1-10 on efforts, creativity, the liveability of the bee-house and the story they submitted. The first winner is Dreamy 105, the second winner is Team Kala, and the third winner is the team of Angelina & Jaccoline. The honourable mention is the team of AirBee & Me.
First Winner: The Dreamy 105
When working at the insect hotel we made it as diverse as possible, in order to produce several niches that could host a great variety of arthropods and foster the biodiversity in our garden. We started by collecting the materials we needed, most of which were laying around in the garden, also giving us the possibility to recycle some bricks, broken terracotta pots, aluminum cans and oyster shells and gravel from an old aquarium. The frame is partitioned in five sections, two bigger ones at the bottom and three smaller ones in the upper part. Starting from the left top corner:
We stacked together six aluminum cans, three of them are filled with reeds, which we cut evenly between two subsequent nodes to make the tunnel deep enough for the insect to crawl inside. The other three cans are filled with a mixture of clay, sand and water which we let solidify and then holed with a screw driver. The clay is appreciated for nesting by the solitary wasps of genus Sceliphron, which are pollinators in the adult stage but larvae are carnivorous and contribute to biological control of pests. The space in between the canned is stacked with bamboo, which provides deep and wide tunnels ideal for solitary Osmia spp. mason bees, who will lay their eggs then seal up the hole using mud or leaf litter. These larger cavities are also good nesting sites for spider-predating Auplopous carbonarius wasps for instance.
For the second section we used eight wooden planks in which we had carved several medium-sized tunnels, ideal for hibernating ladybugs, among others. Fragments of crushed terracotta pots were positioned on top of that to create habitat for rock-dwelling arthropods.
In the top right corner we placed six squared logs of wood in which we drilled holes of different sizes (from 10mm to 2mm), in order to diversify the offer of our hospitable hotel. On top of that we mixed reeds, sticks and twigs of different sizes and some coconut coir. This habitat will be perfect lodging for several groups of insects, such as butterflies, ladybugs and hoverflies, which are highly beneficial for pollination and defending our crops from pests. For example, masked bees (Hylaeus spp.) and the caterpillar parasitoid wasp Ancistrocerus parietum nest in smaller tunnels.
In the compartment in the bottom left corner we employed all the biggest logs of woods, which were drilled with holes of various diameters and then attached together in an intricate puzzle by using clay to fill up the gaps. Holes were punched in the clay to create additional nesting tunnels, ideal for wall-dwelling solitary wasps and bees to lay their eggs.
In the last section of our insect hotel we placed a couple of big bricks with holes inside. The bricks were topped by a layer of clay in which we made holes with a screw driver. The rocky shelter thusly created is great habitat for spiders and other arthropods.
For the roof we assembled a panel of wood slightly sloping to the front. We fixed a sheet of plastic on top of it to make it waterproof, then we spread a layer of clay and covered it with an extravagant design of fresh and dry mosses, red algae, shells and straws. The little forest of this green roof not only will prevent it from overheating but will also be inhabitable for numerous isopods and beetles.
The whole wooden structure was brushed with a layer of used oil creating a weatherproof effect and preventing it from rotting. Finally, two recycled metal nets were fixed on the front side in order to provide shelter to our precious insects from bird predation, and clay pots filled with straw were hung upside down on the sides to host earwigs, further enhancing biocontrol potential in our garden. The structure was placed facing south to ensure sun exposure, on top of bricks that were placed to create yet more tunnels as habitat. The insect hotel will be located in a flower-rich environment.
Second Winner: Team Kala 37
Hereby we would like to present to your the beehouse of team Kala 37?
We made the beehouse with recycled, local materials only, because we think it is very important we do not further damage the environment of the bees with the house we built for them. The frame was made with an old pallet and the roof is made from a skateboard one of the teammember accidently broke while skating. We used moss from the garden and reed and clay supplied by the green office. We also used some dry branches that we normally use for firewood and drilled holes of all kinds of sizes in them(because all bees are welcome!). We wanted to create a nice and homely vibe and made a little cabinet filled with moss and straws so that the bees have comfy beds. We also added a nice decoration, you can see it in the pictures if you look closely in the left corner: a little man with a mustache to watch over the bees.
We added some different pictures, including some in progress pictures and where the bee house is now located (we made sure to put it in a place where lots of flowers grow!). The name of our Bee House is Hotel Libeedo, and we are sure the bees are gonna love it, especially when all the surrounding flowers will bloom:) . You are more than welcome to pass by Droevendaalsesteeg 37 to check out the house in real life!
Third Winner : Angelina & Jaccoline
We (Angelina & Jaccoline) have worked this entire week very hard on our Bee hotel and here is the result! As can bee ? seen in the pictures, the bee hotel is shaped in a hexagon and has many different rooms for its guests. We have placed the hotel this morning in one of the little gardens (volkstuintjes) from the Dolderstraat, 6706 JD Wageningen. The bee hotel faces the morning sun and stands in a plant-rich area. The field and apple tree directly in front of and next to the bee hotel will supply its bees with plenty of flowers during spring and summer.
The hotel is mainly made out of wood, which we gathered from broken furniture that would otherwise have been thrown away. We can actually proudly say that we have only used second hand materials to build this hotel. The block in the middle of the hotel has the most luxerous rooms. Because this block is hard wood, the holes are extremely smooth. On top of that, since the hotel has protruding sides and an extra large roof, the rooms are fairly well protected against wind and rain. Surrounding this middle block are many compartments made out of a wooden pole. The diameters from these drilled holes all range from 3 to 8 mm. The top compartments are made with bamboo (relatively large holes), reed (relatively small holes), and leem. The large variety in sizes hopefully satisfies many different wild bees and perhaps some other insects.
Honourable Mention: AirBee & Me
We decided to make an Air Bee & Me, a safe and cosy place for wild bees as well as a place where we can get closer to nature, and get to know those little bees a bit better. We believe that we can care the best for what we like, and we like what we know. Therefore we wanted to create this space of reconnection and observation.
We decided to put our AirBee&Me at the pond in Droevendaal, (because we live in droef but) mainly because it is a place that offers the maximum sunlight, nearby water for them to drink and next to a batch of wildflowers that bloom every year (coming up soon). Of course, we added some flowers by planting seeds directly next to our beehouse, to bring even more flower diversity and increase their breakfast options 😉
Our AirBee&Me is composed out of bamboo of many different diameter sizes, small reeds (that you guys gave us), bricks (with bigger holes), many medium logs perforated with holes and one big log full of holes of several sizes.
The whole is placed a bit up from the ground, and the bamboo surrounding the construction is keeping the sun heat and protecting from the wind. The bee house is facing South and is in the sun the whole day.
The many holes are varied from 2mm to about 10mm diameter and with a depth of about 10 to 15 cm to allow many different types of bees to visit us and find a perfect nest <3 We sand down as much as possible the edges of the bamboo and the holes in the logs to make sure it is comfortable to enter them.
Also, we hanged a few pots with trow (and 1 with cardboard) to welcome other insects like earwigs.