Tips for a (sustainable) staycation by Green Impact
Planning to have holidays in the Netherlands or Belgium this year?
Green Impact provides you with some (sustainable) tips to have an amazing staycation.
Where to go
The Netherlands may surprise you, if you take time to travel a bit further than Wageningen area. We're not only talking about the Veluwe or the hilly area surrounding Nijmegen. You could also think of visiting the Biesbosch in Noord-Brabant or the Wadden, in the North of the country. Instead of going for the hotspots, you could also pick a random village on the map and discover! Looking for a place to stay? Check out the most beautiful small campsites and houses in nature within The Netherlands, Belgium or Germany. You can even find free camping spots in gardens, offered by a network of Belgian citizens.

How to get there
There are multiple ways of travelling. Some people like bike or backpacking, others prefer to go by car. If taking the car within the Netherlands, you could consider carpooling (if you don't have a car or want to share) or renting a car.
What to do
You may think it's hard to get the holiday spirit when close to home, but don't worry: There's plenty of stuff to do. You may already have visited the highlights of Utrecht, Amsterdam, Antwerpen, etc. But have you already looked at the street art (freely) available in the city? Also, you can download the app "Crowdwater" to turn the less attractive littering aspects of city life into valuable science. For a trip in nature, you can get inspired by the NS walking routes that go from/to a train station or plan your own hike with the convenient navigation-dummy-proof walking points. If you want to have a more active holiday, you may consider going for a bike ride, following one of the many available routes. You can also explore most cities by bike, by renting one via NS (OV-fiets) or a local bike store. If you think a bike is rather basic, there are also canoeing routes available throughout the whole country. When you don't like to plan a trip yourself you can always try out this sustainable travel agency who has trips planned out. If you don't have the tools for camping or need an (electric) bike for example you can rent it from a participating neighbour. Give your staycation a finishing touch by creating and sending postcards to your friends and family, from the places you visited. You can send a digital card or a CO2-neutral printed and personalized postcard. You can even send your postcard for free to elderly using the Omapost initiative.

Whom to meet
No online medium can replace the valuable tips the locals will give you. If you travel close by it helps that you might know a
bit of the language. Using an app like Duolingo to learn at least a few basics will get you off on a good foot with the locals. To really create local connections you can even volunteer at a project for a few days or weeks. In return for lending a hand in local sustainable projects like nature conservation or organic farming, you get a free holiday location and the best local guides in the area (Click for ecologic farm or other diverse projects here and here).
What to buy
Get your daily recharge at local businesses like fresh bread from the local bakery, to kickstart every day of your holiday. The best app and maps for navigating your eating and shopping are "Eerlijk winkelen" with an overview of sustainable stores (fair trade, organic, second hand and more) worth supporting all over the Netherlands and "Happy Cow" for restaurants that offer delicious vegetarian or plant-based meals. You could bring your own container and cutlery to avoid unnecessary packaging. These Dutch and Belgian maps can help you find locations where you can buy zero/less-waste. If you want to have a zero-waste holiday, please visit this website for tips. To get more inspiration and facilitate your trip in the Netherlands or Belgium, visit "De Uitstap".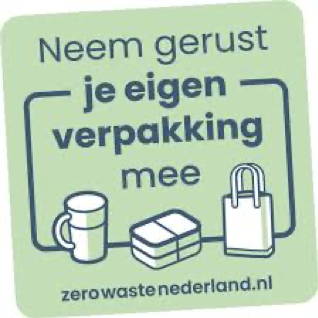 Final tip
If you do decide to leave your house for a while, make sure you don't forget to turn off unnecessary appliances like lights, fridge and heater. Check your food stock before you leave that nothing goes to waste and otherwise donate your leftovers to before you leave.
by Green Impact team


About Green Impact
Would you want to contribute to sustainability in and around WUR?
Then you can join Green Impact!
The program consists of employees and it is supported by students.
Check out the Green Impact Intranet page or the original blog post.