Eating local around Wageningen
As we are well into spring, the moment to grow your own vegetables has arrived as well. If you have given your green thumb a try, there is still some time to go before you could pick from your own garden. Even though it doesn't get more local than your own backyard, eating local food from around Wageningen is also beneficial; you support the local farmers and reduce the travel distance. We will dive into the benefits of eating locally and where you can go to get your local groceries around Wageningen.
Why eat locally?
While the first thoughts about eating locally would be to support and grow the local community, there are numerous other benefits. The transportation aspect is cut down on both ends as the food does not have to travel far to be sold and the consumers' commute to and from the local food markets are cut down to a minimum. This reduces the carbon footprint and is easy on the environment. Eating locally promotes sustainable agricultural practices as there is a closer interaction with the producers who are held more accountable for their actions. It also benefits the local economy and supports local and small scale farmers and other local producers. Now that we have laid out a small list of benefits of eating locally, let's look at places we can visit to get started.
Where to go around Wageningen?
There are multiple places around Wageningen where you could buy your local veggies and fruit. Varying from community-supported agriculture to farms and shops with local produce. We will take you on a tour of some of the possibilities, so you can already get a little bit acquainted before you stop by.
Community-supported agriculture
First up, some places that are part of the community-supported agriculture (CSA) network. In short, CSA entails that there is a partnership between the consumers and the farmers, so that the risks and rewards are shared [1]. You pay at the start of the year after which you will receive a weekly vegetable bag with veggies that are in season.
In Wageningen you can participate in this by subscribing for a vegetable bag at for instance De Ommuurde Tuin (The walled garden). The historic vegetable garden is located in the brook valley of Renkum, and consists of 400 different varieties of organic herbs, veggies and fruits. To get a full overview you can check out their species list. The shop of the garden also sells plants, drinks and a few bites besides the local produce. And we highly recommend getting yourself a drink and taking a seat to enjoy the garden once you're there. You can check the address and opening times here.
A different place that is part of the CSA- network is De Nieuwe Ronde, which consists of 2 locations. You can become a member which means that you can harvest your own vegetables 24/7. Moreover, in addition to the vegetables you could also subscribe for flower picking. Currently there is a waiting list to become a member, but don't fret, you can also get your hands dirty and help in the garden without a subscription. You can find the addresses and contact information here.
Another place where you can get a vegetable bag is Pluktuin Sayuran, located in Pluktuin de Bosrand. Besides the vegetable bag, you can also harvest your own vegetables,fruits and edible flowers without a subscription. Pluktuin Sayuran follows the principles of agroecology, where external input is minimalized and, investing in biodiversity and long-term soil fertility [2]. In Pluktuin de Bosrand you will also find a tea garden where you could enjoy all the beautiful flowers and sip from your self-picked tea. Besides, the garden offers a rich variety of tea and kitchen herbs in addition to the many flowers and fruits. Check out the opening times Pluktuin Sayuran & De Bosrand and the address.
Last place in this list is Tuinderij De Stroom. The organic garden also offers a subscription to a vegetable bag which you can pick up at several locations throughout Wageningen. Or you could visit the farm 'De Groentestek' where their products are also sold, just across the Rhine. Last but not least, here you could get your hands dirty and become a volunteer. You can find the addresses and contact information here.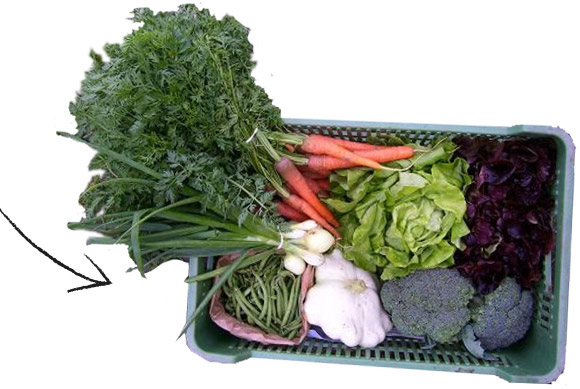 Farmshops
In addition to the vegetable bags there are also many more locations where you could buy local produce. In case you are not ready for a subscription, we picked out some farm shops where you could stop by.
First up is the Hoge Born, a 2-minute bicycle ride from the campus. The care farm has a large variety of organically grown vegetables, fruits, and offers daily-fresh eggs from organically fed chickens. Besides their own produce, they also sell products from other local farmers such as dairy, meat and wine. Furthermore, the farm also has a picking garden for herbs and cut flowers, and a terrace that can't be missed. Here you can check the address and opening times.
A little further away in the estate of Kernhem in Ede you can visit the dairy farm Engelenhove. The historic farm produces organic dairy products of the native dutch cattle 'Brandrood'. Just like the Hoge Born, this farm also has a shop that sells more local produce than its own. Think about bread, mustard, eggs and local beers among other things. You can find the opening times and address here.
Speaking of beer, the City Brewery Wageningen is a must go if you haven't been there yet. The barley that is grown around Wageningen by the Wageningse Korenschoof and Graangeluk among others, is locally brewed into beer here. And we must say it's delicious. Blog approved!
Shops with local produce
There also some other places where you could buy local produce besides the farm shops and the CSA subscriptions. Take for instance Organic Shop Kardoen in Bennekom, or Odin, De Gieterij or the windmill Vlijt in Wageningen. All stores sell local and organic products, which means that they will sell whatever is in season. Also a good way to keep up your sustainable eating habits, if you forgot to check out our seasonal veggie guide before leaving to the store 😉
On a more final note, we only managed to highlight a few farms and places to go. So don't forget about care farm Makandra in Ede, care farm De Hooilanden in Bennekom or the Creative Community Garden in Wageningen, or one of the many other places you could visit. To complete your overview of local farms and stores you could check out the website of 'Lekker naar de boer' or 'Wageningen eet duurzaam'.
To conclude this blog, there is only one thing left for you to do: hop on your bike and get those local products!
By Aishwarya Muralidharan & Sarah van Kooten