Eating seasonal: Fall Fruit Guide
Autumn has started so our seasonal food guide is back! Last year we highlighted the autumn veggies, so this time we will help you find fruits that are in season. Seasonal eating will reduce the environmental impact of the food you eat, because seasonally grown food takes less resources (be this energy for heating, pesticides or nutrients). Additionally, trying to eat seasonal food adds variety to our usual everyday diet, making the experience of cooking and eating more interesting for anyone who has to cook their own food, and eat it above all. If this description includes you, then this guide is designed to help you navigate how to eat seasonal fruits in the fall months: October, November and December.
Global vs. Local seasonal food
Let's start with a small clarification: the fruits and vegetables you eat will always be seasonal somewhere in the world – and the food in our supermarket shelves comes from many different countries. This adds some complication to the idea of seasonal eating.
In October, for example, Paprika (Bell Pepper) is "seasonal" if it comes from Spain, where it grows in fields. Dutch Paprika, on the other hand, is not, as during the cold month it is grown in greenhouses, which means the growing process takes much more energy. This means that eating seasonal and eating locally can sometimes be at conflict, making the idea of sustainable eating complex. Given that the dutch fruit production consists mainly of apple and pear species, this blog will also include produce that is relatively sustainable throughout october-december. The fruits that are included are rated as sustainable based on cultivation method, transportation and packaging material. Furthermore, in these months they are tastiest.
What's in season? A month by month fall guide
The following table offers a handy visual summary of fruits that are a sustainable choice during October, November and December. Don't forget to check the country of origin and to bring your own bag, to keep it as sustainable as possible!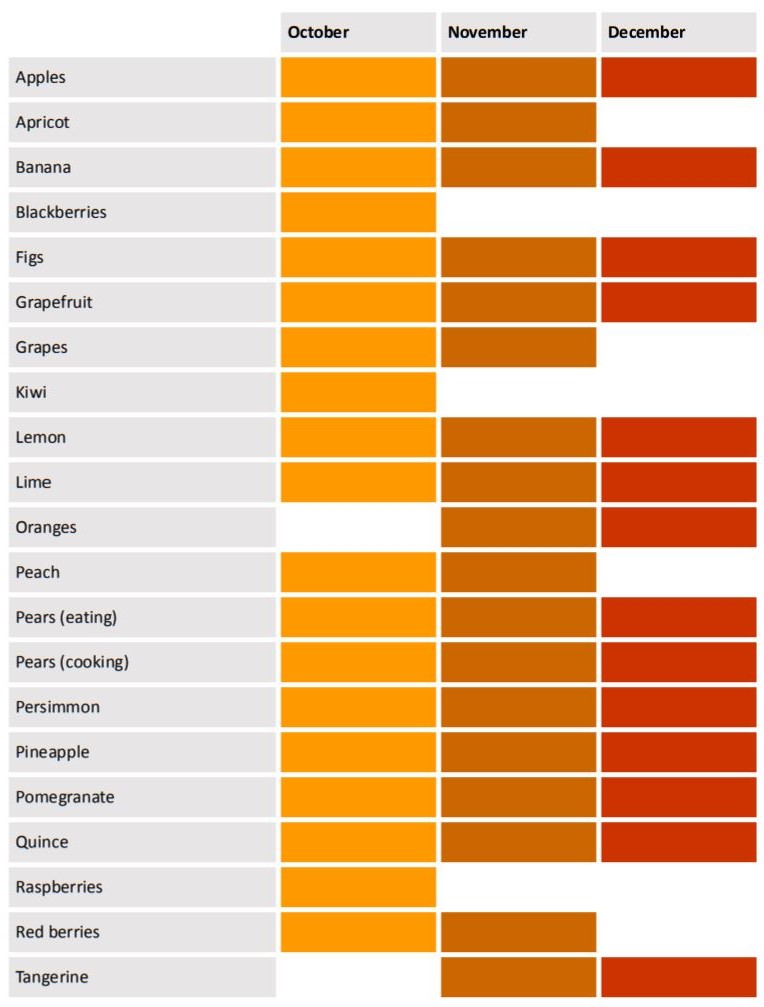 Seasonal recipes: the Student Cooking Corner Blog
Even though the Student Cooking Corner will be back on campus, you can also find their recipes on the Green Office website to help you cook more sustainably from home. Check out the SCC blog for recipes and inspiration for your seasonal cooking. It is regularly updated with new recipes by the SCC team.
By Sarah van Kooten