Vegan Holiday Feast: a 5-Course Meal
Imagine the following: you're sitting down for dinner with your family and friends when you suddenly realize, that the only thing you can eat is the fruit bowl and dry potatoes. That can ruin anyone's holiday mood. If this is a familiar feeling, you're in the right place. I've gathered some amazing vegan dishes for a full 5-course feast to help you enjoy the holidays to the fullest.
Hors d'oeuvre
To start, have some tasty finger foods to keep the hunger at bay:
Pigs in Blankets: https://myveganminimalist.com/vegan-pigs-in-a-blanket/
Ingredients
2 large carrots or 24 baby carrots
2 tsp olive oil or other light oil
2 tsp soy sauce
0.5 tsp salt
1.5 tsp garlic powder
1 tsp smoked paprika
1 tsp paprika powder
1.5 tsp herbs de Provence
0.5 tsp black pepper
1 package vegan puff pastry 320g or 11 oz
OPTIONAL DIPPING SAUCE
1 tbsp mustard
1 tbsp vegan mayonnaise
1 tsp maple syrup
salt and pepper to taste
TOPPINGS
1 tsp unsweetened almond milk for brushing
1.5 tbsp sesame
1 tsp herbs de Provence
Instructions
1. Wash and trim carrots into halves or quarters (roughly about 3 cm-1 inch thick and 6 cm-2 inches long). If you're using baby carrots, no need to cut them.
2. Prepare your marinade by mixing all the remaining ingredients from the 'pigs in blankets' section above (except vegan puff pastry).
3. Rub the marinade onto your carrots to infuse them with flavour. If desired, set aside for 15 minutes for a more intense flavour.
4. Place the marinated carrots onto a lined baking tray. Bake at 180°C/356°F for 30 to 35 minutes until tender but not too soft.
5. In the meantime, mix all your dipping sauce ingredients and set aside.
6. Remove the carrots from the oven and let them cool slightly.
7. Roll out your puff pastry. If you want all your pigs in blankets to look uniform, make sure to measure out your puff pastry and slice it into equal rectangles.
8. Wrap carrots in puff pastry and place them on a lined baking sheet.
9. Brush with almond milk and sprinkle with sesame seeds and herbs de Provence.
10. Bake at 200°C/392°F (fan oven) for 20 minutes or until golden brown around the edges.
11. Serve with the dipping sauce or other favourite condiments.
Appetizer
Next, a bit of soup to keep you warm during these dark winter nights:
Pumpkin soup: https://minimalistbaker.com/simple-pumpkin-soup/#wprm-recipe-container-35783
Ingredients
2 sugar pumpkins (2 pumpkins yield ~2 1/4 cups (450 g) pumpkin puree)
15 ml olive oil (or sub water if oil-free)
2 medium shallots (diced // 2 shallots yield ~1/4 cup or 40 g)
3 cloves garlic (minced // 3 cloves yield ~1 1/2 Tbsp or 9 g)
480 ml vegetable broth (DIY or store-bought)
240 ml canned light coconut milk (or sub other non-dairy milk with varied results)
30 ml maple syrup or agave nectar (or honey if not vegan)
1/4 tsp each sea salt, black pepper, cinnamon, nutmeg
Instructions
1. Preheat oven to 176 C and line a baking sheet with parchment paper.
2. Using a sharp knife, cut off the tops of the sugar pumpkins and then halve them. Use a sharp spoon to scrape out all of the seeds and strings (see notes for a link to roasting seeds).
3. Brush the flesh with oil and place face down on the baking sheet. Bake for 45-50 minutes or until a fork easily pierces the skin. Remove from the oven, let cool for 10 minutes, then peel away skin and set pumpkin aside.
4. To a large saucepan over medium heat add olive oil, shallot and garlic. Cook for 2–3 minutes, or until slightly browned and translucent. Turn down the heat if cooking too quickly.
5. Add the remaining ingredients, including the pumpkin, and bring to a simmer.
6. Transfer the soup mixture to a blender or use an immersion blender to puree the soup. If using a blender, place a towel over the top of the lid before mixing to avoid any accidents. Pour the mixture back into the pot.
7. Continue cooking over medium-low heat for 5–10 minutes, and taste and adjust seasoning as needed. Serve as is or with Kale-Sesame topping.
8. For the Kale-Sesame topping: In a small skillet over medium heat, dry toast sesame seeds for 2-3 minutes, stirring frequently until slightly golden brown. Be careful as they can burn quickly. Remove from pan and set aside.
9. To the still hot pan, add olive oil and garlic and sauté until golden brown – about 2 minutes. Add kale and toss, then add a pinch of salt and cover to steam. Cook for another few minutes until kale is wilted and then add sesame seeds back in. Toss to coat and set aside for topping the soup.
9. Recipe serves 3-4 (as originally written). Leftovers keep in the fridge for up to a few days and in the freezer for up to a month or more.
Salad
Of course, we also need a salad course:
White Beans Kale Salad w Tahini Dressing: https://minimalistbaker.com/white-bean-kale-salad-with-tahini-dressing/#wprm-recipe-container-35457
Ingredients
GARLIC CROUTONS (optional)
~150 g white or wheat bread (cubed // day old is best //gluten-free if needed)
60 ml olive oil (or other neutral oil, such as avocado)
¼ tsp each garlic powder, sea salt + black pepper
BEANS
1 425-g can white or butter beans (rinsed and drained)
½ lemon, juiced (1/2 lemon yields ~1 Tbsp or 15 ml)
15 ml olive oil
¼ tsp sea salt
~4 g fresh parsley (chopped // plus more for topping)
SALAD
283 g kale (chopped // large stems removed)
1 lemon, juiced (1 lemon yields ~2 Tbsp or 30 ml)
15 ml olive oil
15 ml maple syrup
1 pinch each sea salt + black pepper
1 clove garlic (minced)
DRESSING
80 g tahini
1 clove garlic (minced)
1 ½ lemon, juiced (1 ½ lemons yield ~3-4 Tbsp or 45-60 ml)
15-30 ml maple syrup
1 pinch each sea salt + black pepper
Hot water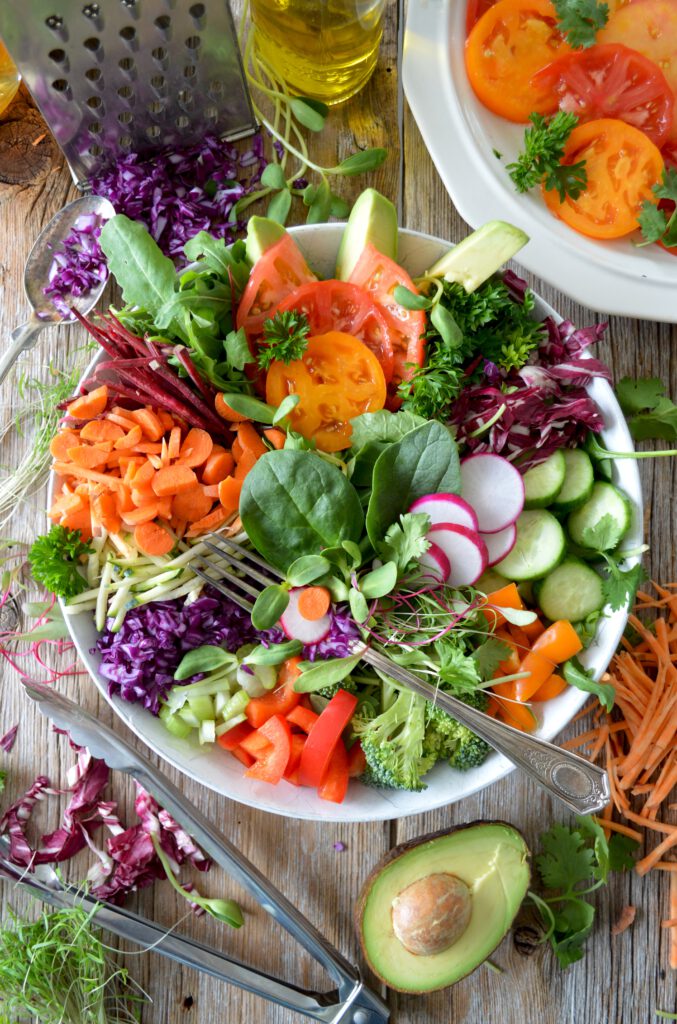 Instructions
1. If making croutons (optional), preheat oven to 325 degrees F (162 C).
2. Add bread cubes to a large mixing bowl. In a separate bowl, whisk together oil, garlic powder, sea salt and pepper, and pour over the bread. Toss to combine. Season once more with a bit more garlic powder, salt and pepper. Toss once more.
3. Spread on a bare baking sheet and bake for 15-20 minutes or until golden brown. Flip/stir at the 10-minute mark to ensure even baking. Set aside.
4. In the meantime, add drained beans to a small mixing bowl and add lemon juice, olive oil, sea salt, and fresh parsley. Toss to combine. Set aside.
5. Add kale to a large mixing bowl with lemon juice, olive oil, maple syrup, salt, pepper and minced garlic. Use your hands to massage the kale and break down its texture a bit, and season the salad.
6. To prepare the dressing, add tahini, garlic, lemon juice, maple syrup, sea salt, and pepper to a small mixing bowl. Whisk to combine, then add hot water to thin until pourable. Taste and adjust seasoning as needed. Set aside.
7. Lastly, add beans, croutons, and 3/4 of the dressing to the kale and toss to combine. Serve with any additional dressing and garnish with vegan parmesan cheese (optional). Best when fresh. If serving later, store dressing and croutons separately.
Main course
Finally, the most important part: a filling and delicious vegan pie, with some all-important protein, and vegetables on the side:
Tofu Spinach Wellington: https://www.cauldronfoods.co.uk/recipes/vegan-tofu-wellington
Ingredients
1 pack of Cauldron Organic Tofu Block, drained and pressed
150g fresh spinach leaves
2 tbsp vegetable oil
40g pumpkin seeds
40g sunflower seeds
40g cranberries, dried, chopped
1 sheet chilled uncooked puff pastry sheet – around 320g
20g vegan butter block
salt and freshly ground black pepper
Tofu Marinade:
50ml balsamic vinegar
1 tsp dried thyme
1 clove garlic, crushed
2 tsp agave nectar
Mushroom Duxelles:
200g chestnut mushrooms
1 clove garlic
2 sprigs of fresh thyme
Beetroot Puree:
80g cooked beetroot
Instructions
1. Preheat oven to 190°C Fan.
2. Drain and press the tofu for at least 20 minutes. (The longer you press the firmer the texture).
3. In a pan of boiling water blanch the spinach for no more than 30-45 seconds. Drain and press to remove as much moisture as possible.
4. In a food blender/processor, blend the chestnut mushrooms with the thyme and garlic until finely chopped. Season generously with salt and pepper and then in a pan gently fry off on medium heat in 1 tablespoon of oil for approximately 3–4 minutes and set to one side.
5. For the beetroot puree, place the beetroot in a bowl with 2 tablespoons of water, cover and cook on high power for 2 minutes. Blend in the food processor.
6. Once pressed, slice the tofu lengthways into 6 slices about ½ cm thick. Mix the marinade ingredients together and pour over the tofu. Marinade for at least 20 minutes, turning halfway through. In a pan, heat 1 tablespoon of oil on medium heat and fry off the tofu so that it's nice and golden on each side. This should take around 7–8 minutes, then set it aside to cool.
7. In the oven, roast the sunflower and pumpkin seeds for 3–4 minutes, or until they start to pop. Set aside to cool.
8. To construct the Wellington, cut your pastry sheet in half lengthways, and lay the pastry on some parchment. Spread a thin layer to one side of the pastry of the mushroom mixture, and add the spinach. Sprinkle over half of the roasted pumpkin seeds, sunflower seeds and chopped cranberries.
9. Spread a thin layer of the beetroot puree over the top of the tofu slices then place into the Wellington and top with the remaining pumpkin and sunflower seeds.
9. Lay the second sheet of pastry on top, pressing around the centre to shape. Crimp around the edges with a fork to seal the Wellington. Score the top gently with the back of a knife. Transfer to a non-stick baking tray. Brush with vegan butter. Bake in the oven for 40–45 minutes, or until the pastry is cooked all the way through.
10. Slice and enjoy with roasted vegetables and cranberry sauce.
Green Bean Casserole: https://minimalistbaker.com/vegan-green-bean-casserole/
Ingredients
453 g green beans (rinsed, trimmed and cut in half)
Sea salt and black pepper
28 g vegan butter or olive oil
1 medium shallot (minced)
2 cloves garlic (minced)
70 g finely chopped mushrooms (button, baby bella, or cremini)
17 g all-purpose flour
180 ml vegetable broth (DIY or store-bought)
240 ml unsweetened plain almond milk
84 g crispy fried onions (divided // I love Trader's Brand – check ingredients to ensure vegan-friendly)
Instructions
1. Preheat oven to 400 degrees F (204 C). Bring a large pot of water to a boil and salt well – it will help season the green beans. Add green beans and cook for 5 minutes, then drain and place in an ice water bath to stop cooking. Drain and set aside.
2. In the meantime, start preparing sauce. In a large oven-safe skillet over medium heat, add vegan butter or olive oil and shallots and garlic. Season with salt and pepper and stir. Cook for 2-3 minutes, then add mushrooms and season with a bit more salt and pepper. Cook for 3-4 minutes more or until lightly browned.
3. Sprinkle in flour and whisk to stir and coat the veggies. Cook for 1 minute, then slowly add in veggie stock, whisking to incorporate.
4. Add almond milk next and whisk to stir again. Season with a touch more salt and pepper and bring to a simmer, then reduce heat to low to thicken. Cook for 5-7 minutes more, or until thick and bubbly. Taste and adjust seasonings as needed.
5. Remove from heat and add 1/3 of the fried onions (1/2 cup as original recipe is written // adjust if altering batch size) and all of the cooked green beans. Toss to coat well, and top with remaining fried onions.
6. Bake for 15 minutes, or until warmed through and bubbly and slightly browned on top. Serve immediately (handle pan carefully).
7. Leftovers store well in the fridge for up to a few days.
Dessert
Something sweet! No feast is complete without dessert, so I present to you:
Gingerbread Cheesecake: https://www.plantbaked.com/no-bake-gingerbread-cheesecake/#recipe
Ingredients
50 g vegan unsalted butter melted
150 g gingerbread cookies
1 cup vegan heavy whipping cream
300 g vegan cream cheese or sour cream
½ cup coconut sugar
½ tsp ground ginger
1 tsp ground cinnamon
½ tsp ground nutmeg
¼ tsp ground cloves
Instructions
1. In a food processor, combine gingerbread cookies and melted butter to make a gingerbread cookie crust. Pulse until combined.
2. Press the prepared crust into the bottom of an 8-inch (20 cm) springform pan. Place in a refrigerator until the filling is ready.
3. To make the cheesecake filling, in a large mixing bowl with an electric handheld mixer, whip the cream until firm peaks form. Add cream cheese, coconut sugar, ground ginger, cinnamon, nutmeg, and cloves. Mix until thick and creamy.
4. Pour the mixture over the crust and smooth out the top.
5. Garnish with gingerbread cookies (optional).
6. Chill the cheesecake in the freezer for a few hours.
7. Let cheesecake rest at room temperature to soften up before cutting.
I hope you found something you liked in these recipes, or got inspired to look for new dishes yourself! Being vegan doesn't have to mean you can't enjoy a delicious and festive feast. Happy holidays, everyone! ✨
Written by: Anna Hallingu