What is Green Impact, and how can you get involved?
Make WUR Sustainable with Green Impact
Do you want to be involved in making the WUR even more sustainable? Are you passionate about doing something against climate change or food waste? Or do you have ideas for sustainability and social responsibility in your working environment? Join Green Impact!
Green Impact encourages you to work in a team to implement concrete actions on socio-economic and environmental issues together. Teams have access to an online toolkit with actions specifically developed for the WUR. Themes that are included in toolkit are: energy & water, circularity, food & drinks, transport and social responsibility. But it is also possible to tackle a specific topic. Furthermore, you will find specializations on climate change, biodiversity, sustainability in education and social responsible procurement. Feel free to come up with your own actions and gain extra rewards by collaboration with colleagues and other teams.
A building-oriented approach
The Green Impact program aims at an active team in each WUR building. There are now Green Impact teams in Actio, Forum, Helix, Leeuwenborch and Gaia / Lumen. If you have not participated in Green Impact before, you can join one of the existing teams or start a team yourself.
Some actions to inspire
The Actio(n) team did a "Groene Vensterbank Challenge" (Green Windowsill Challenge), which they came up with themselves. A very simple idea, but very effective in making your working environment, currently your own home, a green area.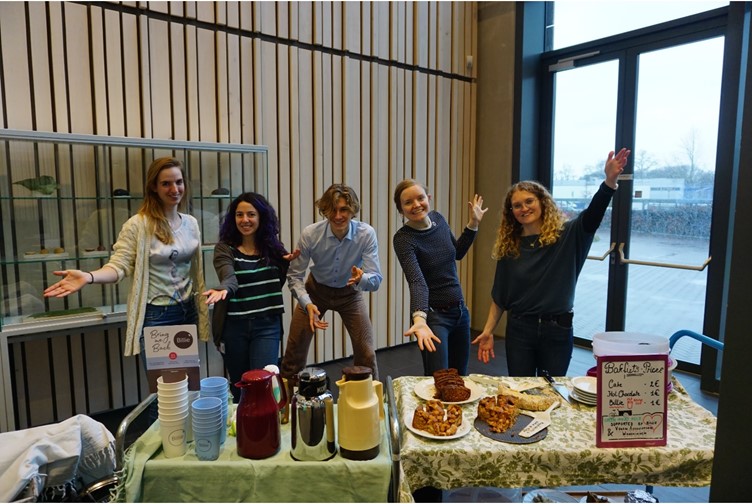 The Helix team organised a BAKfiets (pastry bicycle) event. Where employees could buy vegan pastries for their colleagues, thanking them for their teamwork. The recipes were shared afterwards to entice people to bake more vegan food. Additionally, they also sold vegan chocolate milk in BillieCups as a trail for this reusable cup system in Wageningen University.
This year the Green ESG took the lead, again! Their major project consisted of improving the purchasing of socially responsible products withing the entire ESG group, a massive change, because the current policies in Wageningen University do not facilitate the sustainable purchasing of utilities and via systematic change your impact is biggest! Interested?
Interested?
Green Office Wageningen and WUR Facility Service together coordinate the Green Impact program. The campaign runs from January to June 2021. For more information email greenimpact@wur.nl. The Green Office Wageningen and WUR Facility Services together organize the kick-off of the 2021 edition of Green Impact. Do you want to make a sustainable contribution? Email us and join the introduction o the 3rd of November! Come to this special event to learn more about the Green Impact program and how you can participate.
By: Riemer van der Vliet