Pumpkin & Onion Tart
The story behind the recipe
The perfect recipe for dinner, social gatherings and meal prepping in autumn and winter is this pumpkin & onion tart. Onion tart originates from Germany. I have been struggling to find a good vegan version for a long time but this one is it!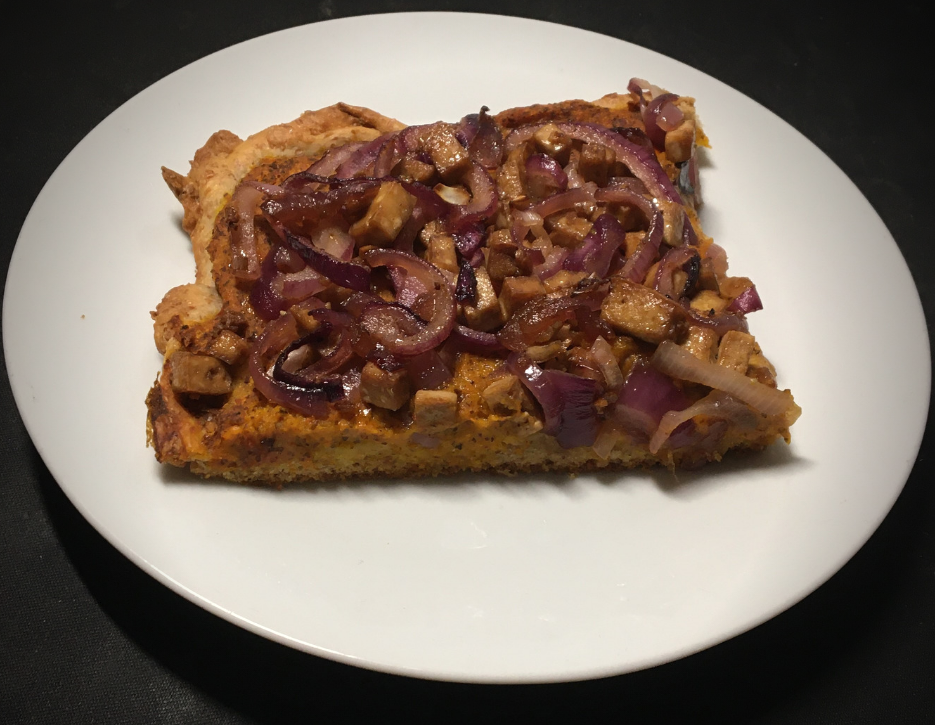 Everybody knows that pumpkin harvest is in autumn, starting in September and ending in November. If you're lucky, you can find them until March when they were stored properly. This recipe is a fancier alternative to other pumpkin recipes like soups or roasted pumpkin.
What do you need?
Yeast Dough
300 g whole wheat flour
20 g yeast
125 mL warm water
60 g oil
1 tablespoon sugar
1 teaspoon salt
Pumpkin Layer
1 pumpkin (e.g. Hokkaido)
4 tablespoons ground flaxseeds
Salt, nutmeg, chili, curry powder
Onion Topping
2-3 red onions
1 block of smoked tofu
soy sauce
salt, pepper, chili, sugar
oil
How do you make it?
Yeast Dough
Mix all ingredients for the dough. Knead the dough until it is elastic and of yeast dough-esque consistency. That can take quite some time, so don't lose hope!
Let rise for about half an hour.
Roll out the dough to the size of your baking tray and let rise again for a few minutes.
Pumpkin Layer
In the meantime, you can start processing the pumpkin.
Hollow out and chop the pumpkin. You don't have to peel it.
Cook the pumpkin pieces in salted water until soft.
Pour off the water.
Purree the pumpkin and mix with salt, nutmeg, chili and curry powder. Also, add the ground flaxseeds.
Spread the pumpkin mass on the dough and put in the oven at 200 °C for about 20 minutes.
Onion Topping
Cut the onions in half rings and the tofu in small cubes.
Roast the tofu cubes on high heat until they start to get crispy.
Lower the heat and add onions. Add soy sauce, pepper and chili and roast the mix for a few minutes.
Spread it on top of the pumpkin layer.
Sprinkle some sugar on top and put back in the oven for about 20 minutes.