Vegan Andijvie Stamppot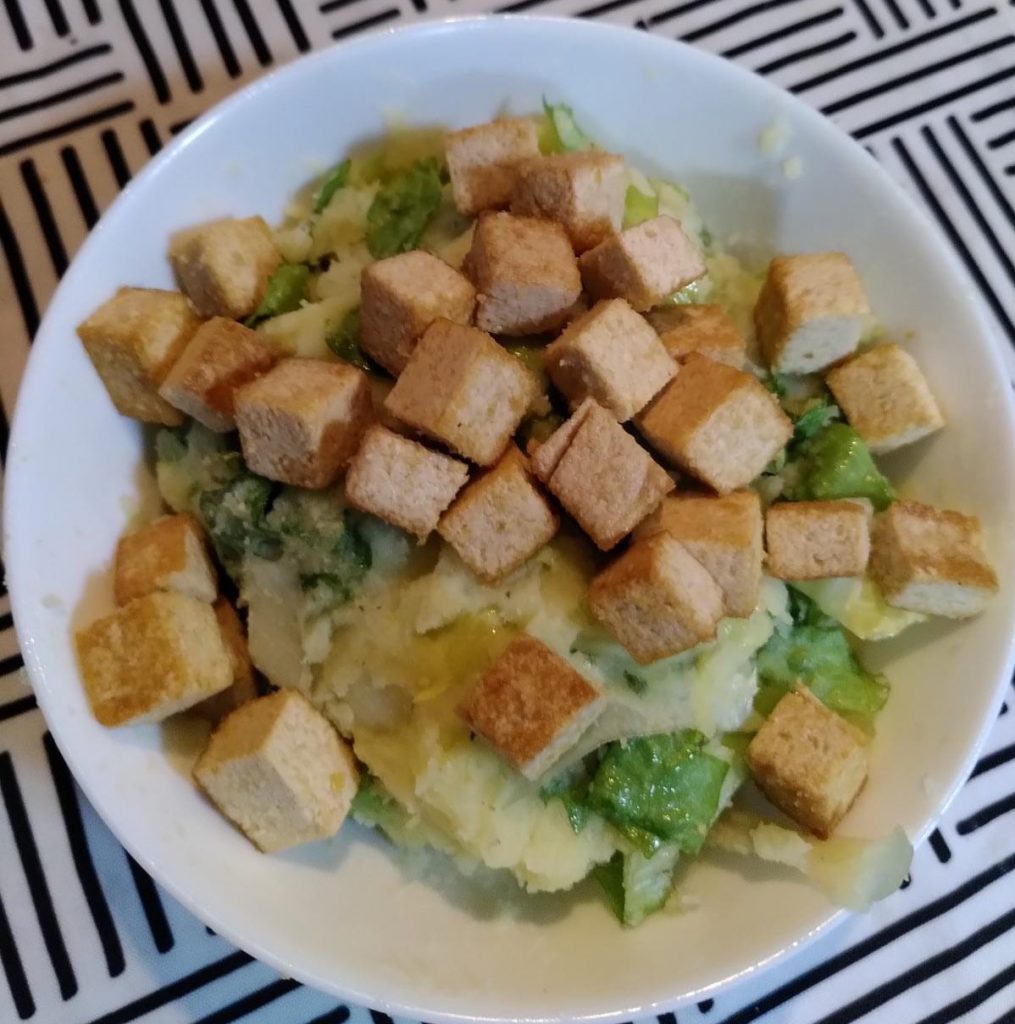 The Story Behind the Recipe
Stamppots are a bit part of dutch cuisine and this time we revisited the traditional 'andijvie stamppot' and vegetarianized/veganized it.
I tried looking for the English translation of andijvie but could not find it, unfortunately, so I will name this vegetable the dutch way. (Edit: it's called endive in English but andijvie sounds way better :D)
'Andijvie' that is grown locally can be found in the supermarkets from August to November.
What do you need?
For 3-4 servings:
1 kg potatoes
1/3 stick of (vegan) butter
200 g of smoked tofu OR 250 g mushrooms
1 cup of (plant-based) milk
2 teaspoons of garlic powder
2 teaspoons of onion powder
Pepper & salt to taste
For every serving, 1 or 2 handfuls of chopped up 'andijvie'.
I really like smoked tofu with this dish but I know some people may be allergic to soy or not like its taste therefore there is an alternative with mushrooms. The more 'fiber-y' the mushrooms, the better it will taste.
How do you make it?
Peel the potatoes and boil them in water on the stove.
Wash and chop up the 'andijvie'.
Cut the tofu in cubes and pan-fry them at medium-high heat for about 10 minutes or until they brown a little bit. Add salt to taste
OR Chop up the mushrooms and pan-fry them with some salt at medium-high heat for about 10 minutes.
When the potatoes are soft (check by sticking a fork in and see if the potato falls off if you lift it), turn off the heat and drain and mash the potatoes in the pot with the butter.
Add milk until the mash is smooth but still firm. Then add the garlic powder, onion powder and salt & pepper to taste.
Add the 'andijvie' and tofu/ mushrooms and voilà!
You can now call yourself dutch.
Tips
Add some gravy for a nice variation. Jumbo has some gravy powder to which you just need to add water and butter. You can find these near the sauces and soups. "Jumbo Jus Naturel" is vegan.
Another option is to eat the stamppot with your favourite vegan sausage or even "Jumbo Plantaardige Stooflapjes". This is a plant-based version of the type of meat that is often eaten with stamppot.